This Saturday fans in the Borderlands will receive the treat of watching one of the rarest occurrences in sports, a Pioneer Football League school playing an FBS opponent. Yesterday, the NCAA granted a waiver for Valparaiso to play a 12th game against New Mexico State. In the over 30-year history of the Pioneer Football League, there have been three games against FBS schools.
The @valpoufootball season is not over yet❗❗❗ The first game against an FBS opponent in program history will take place on Saturday at New Mexico State. 📝: bit.ly/3EOseY7 #GoValpo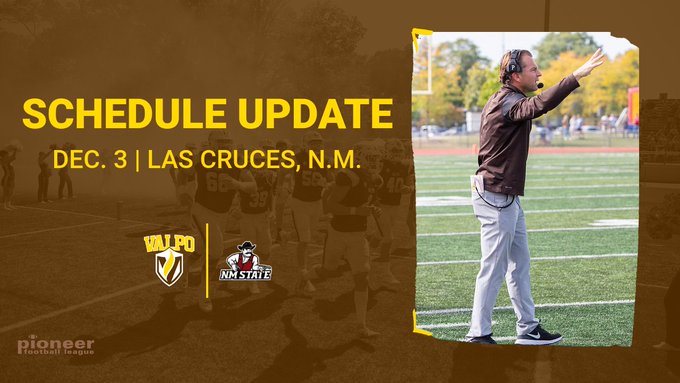 The PFL is one of two non-scholarship football conferences as the members are mostly made of former Division III football programs who needed a Division I home to maintain their Division I status in Olympic Sports. Because they do not give football scholarships, crossovers between them and the FBS are rare.
The game is Valparaiso's first against an FBS school since Division I split and their first-ever December game. Two were blowouts and one was close to being one of the greatest upsets in American sports.
2002: Austin Peay @ Troy
Remember when Austin Peay was in the Pioneer Football League? This seems like ages ago, but the Governors called the PFL home from 2001-2005, but their time was hardly successful, as they recorded an 18-37 record overall, with a 3-10 mark in conference.
In 2002, the Governors were on their way to a 7-5 record and the best year of their PFL stint when they played the Troy Trojans for the 16th time ever. Troy was in their second year at the FBS level and the presence of Austin Peay may not have been the weirdest aspect of the schedule as Troy scheduled four FCS opponents.
Austin Peay was no match for Troy as DeWitt Betterson ran for 131 yards and three touchdowns for the Trojans in a 41-3 win. Even though Austin Peay moved out of the Pioneer Football League and granted scholarships again in 2007, the schools have not met since this meeting.
2015: San Diego @ San Diego State
2015 was only the second meeting in the "Ron Burgundy Bowl" between the two San Diego schools. The only other meeting ended with San Diego State blowing out the Toreros 42-12 in 1961.
This game had intrigue on paper as San Diego was fresh off a 9-3 campaign and a Pioneer Football League championship in 2014. However, the Aztecs were too much for the Toreros as five interceptions helped the Aztecs win 37-3 despite only gaining 305 yards.
The game drew 48,785 fans and was San Diego State's best-attended home game that season by over 12,000 fans. Interestingly enough, both schools would win at least shares of their respective conference's championships that season.
2018: Drake @ Iowa State
Unlike the other two, this game was not even scheduled at the start of the season as two dominoes fell for Drake and Iowa State to play. First, Iowa State's season opener against South Dakota State was called off in the first quarter due to lightning. Iowa State scheduled a replacement game against Incarnate Word for December 1st, but that too was canceled when UIW qualified for the FCS Playoffs. Finally, Iowa State scheduled Drake, who also had their season opener canceled due to lightning, for a December 1st meeting, their first matchup since 1985.
Iowa State was in the middle of its renaissance, fresh off a 2017 Liberty Bowl-winning campaign where they beat two top-four teams and were 7-4 heading into the final game. Drake was a solid 7-3 team, but could not win the Pioneer Football League.
It appeared this one would get ugly quickly. Yet, the 70th meeting of a rivalry dating back to 1898 was arguably the best as Drake shocked the college football world and nearly beat Iowa State, taking a 24-20 lead with 3:37 left in the third quarter. Iowa State scored on the ensuing drive and the defense preserved a 27-24.
Grant Kraemer outplayed future Mr. Irrelevant, Brock Purdy, throwing for 221 yards and three touchdowns compared to Purdy's 153 yards and one touchdown. The game nearly had implications for the College Football Playoff as a loss by Iowa State would have significantly hurt Oklahoma's playoff resume and may have kept them out of the top four.
With a respectable performance against one of the best New Mexico State teams of the past 60 years, Valparaiso can garner some attention for not just themselves, but the whole Pioneer Football League. A close game would exceed expectations given the outcomes of two of the three PFL-FBS matchups.