A day after being named the Eddie Robinson Coach of the Year, Deion Sanders flipped the nation's No. 1 recruit in the class of 2022 in Travis Hunter from his commit to Florida State (Deion Sanders' alma mater) to an FCS program in Jackson State.
Travis is a five star cornerback/ wide receiver from Collins Hill High School in Suwanee, GA. Scouts have made comparisons of him to Pro Football Hall of Famer Charles Woodson for his ability to play both offense and defense.
The fact that Travis wants to play both receiver and cornerback at the next level and Deion Sanders willing to let him play both was probably a huge draw for him. Combine that with the opportunity to be coached by Deion Sanders being one of the best to ever play both sides of the ball, Jackson State is starting to become a powerhouse at the FCS level going 11-1 this past season.
Hunter said this on his decision to choose JSU over FSU:
Florida State has always been a beacon for me. I grew up down there, that's where my roots are, and I never doubted that I would play for the Seminoles. It's a dream that is hard to let go, but sometimes we are called to step into a bigger future than the one we imagined for ourselves. For me that future is at Jackson State University.
Travis Hunter is the first ever five star recruit to sign with an FCS school since the star rating came out in 2006. I believe this is ground breaking for FCS programs around the country, not just those coached by NFL legends. In signing Travis, it put FCS schools, especially HBCU, on the map as an attractive destination for recruits.
It's OFFICIAL #jsu #gotigers 🐅 @jacksonstatefb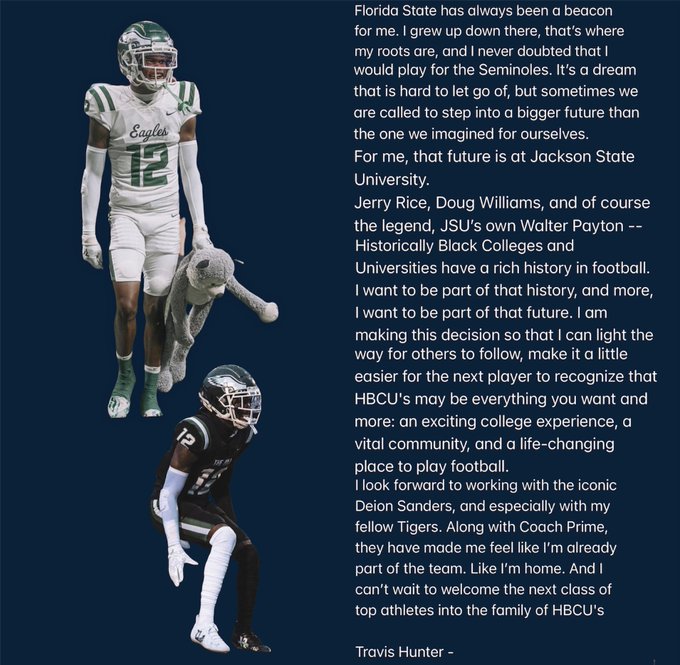 Other than this big signing, JSU also signed six players from the transfer portal:
Mark Pope ( 6-1, 175, WR, University of Miami)
Michael Pleas (6-3, 222, S, Southern Miss)
Jason Mercier (6-5, 235, Edge, Florida International University)
Evan Henry (6-3, 315, OG, Louisiana-Monroe)
Jordyn Williams (6-1, 184, WR, Indiana)
Camron Buckley (6-2, 198, WR, Indiana)