Earlier this week, South Dakota State announced it would play Drake at Target Field, or "The House That Joe Mauer Built" on September 16th. Earlier this week, I looked at Drake's history of ballpark football games, so it's natural, I do the same for the Jackrabbits.
Target Field... the Jackrabbits are coming! 😎 Target Field & the @Twins organization will host @GoJacksFB on September 16, 2023 against Drake University. The kickoff time & ticket information will be announced in the coming weeks. 📰 » bit.ly/3ZZiu6Y #GoJacks 🐰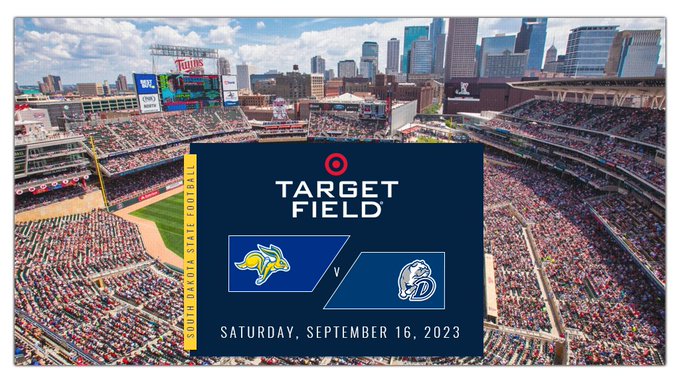 The Jackrabbits' first ballpark game was against Creighton in 1924 at Omaha's League Park, home of the Omaha Packers of the Western League. Despite Creighton outgaining South Dakota State 340-176, the Jackrabbits left Omaha with a 10-7 win.
Two years later, in 1926, the Jackrabbits would make its first of two appearances in Sportsman's Park to play St. Louis. The Jackrabbits used two fourth quarter touchdowns to beat St. Louis 14-0 in front of 5,000 fans.
In 1929, St. Louis returned the favor at Sportsman's Park as they outgained the Jackrabbits 242-103 in a 6-0 win. St. Louis completed eight of their 17 passes for 85 yards, very respectable totals for 1929.Another ballpark game of note in the Roaring Twenties, was South Dakota State's visit to Honolulu Stadium to play Hawaii on Christmas Day in 1926. Honolulu Stadium was famously host of the Hula Bowl from 1948-1975 and the Hawaii Islanders of the Pacific Coast League.
In a Calvin Coolidge Administration precursor to the Aloha Bowl, South Dakota State won 9-2 on three field goals from Frank Kelley. The Jackrabbits stopped Hawaii on a fourth and goal situation with less than a minute to go to preserve the situation. Interestingly enough, Knute Rockne was an official in this game.
In the 1930s, South Dakota State made trips to two iconic ballparks of the National League. In 1932, the Jackrabbits lost a 34-12 game to Duquesne in front of 5,000 fans at Forbes Field, the home of the Pittsburgh Pirates. Five years later, the results would be similar as DePaul blew out the Jackrabbits 44-7 at Wrigley Field.
The Jackrabbits lost their other ballpark appearance in the 1930s with a 13-7 upset loss to Morningside at Stockyards Park (I would put a hyperlink, but all of the Stockyards Park articles are paywalled) in Sioux City, Iowa. Three interceptions doomed South Dakota State despite passing for 171 yards and outgaining Morningside by 63 yards.
Like Drake, the Jackrabbits also played in Peoria Stadium, the home of the Peoria Red Wings of the All-America Girls Professional Baseball League. Unlike Drake, who went 7-0 at the stadium, the Jackrabbits would like to forget its appearance at Peoria Stadium, as they lost 32-7 to Bradley in 1949.
It would be nearly three decades before South Dakota State would play another game at a ballpark, when they would play Louisville at Fairgrounds Stadium and Portland State at Portland's Civic Stadium.
Louisville's Fairgrounds Stadium, later known as Cardinal Stadium, was home to the Louisville Colonels and Redbirds of the American Association and International League. Civic Stadium in Portland was home to the Pacific Coast League's Portland Beavers as well as the USFL's Portland Breakers.
Neither game would go well, as the Jackrabbits lost 54-7 to Louisville and 42-21 to a Neil Lomax-led Portland State squad. Interceptions doomed the Jackrabbits in both games as they threw for nine of them between the two games.
South Dakota State would play twice more at Portland's Civic Stadium in 1980 and 1984. Neil Lomax threw for 447 yards in a 48-17 Portland State win in 1980 and the Vikings overcame eight turnovers to win 17-14 in 1984.
Like their opponent on September 16, South Dakota State has a well-traveled ballpark football history. As a result, this only adds nostalgia and intrigue to September 16th's game.