This past Monday, head coach Scott Wachenheim and the Keydets picked up a commit from in-state 3-start cornerback Davion Corpening from Warwick High School in Newport News, VA. After attending camp at VMI (located in Lexington, VA) this past July, Davion picked up an offer on August 1st. One week after receiving an offer, Davion announced his commitment to VMI on August 8th via social media.
The wait is over!!!Thank you for this opportunity @CoachSWach @CoachBParker17 @VMI_Football Ready to be a part of the Keydets brotherhood🤙🏾 #Redswarm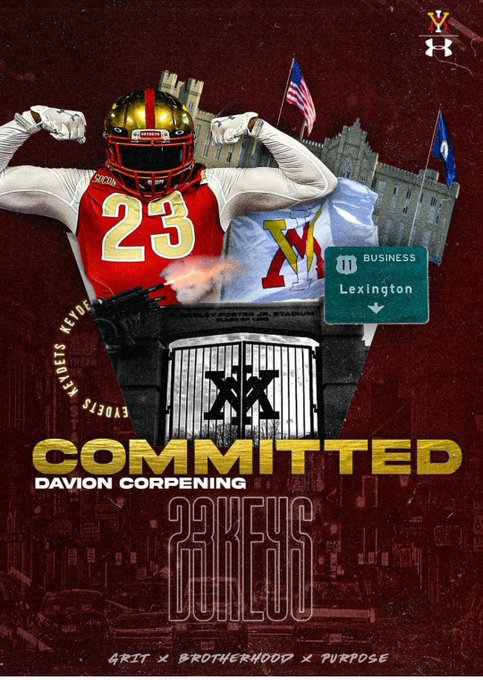 Rivals has Corpening ranked as a 3-star prospect and is currently ranked as a Top-40 prospect in the state of Virginia. This past season at Warwick, he totaled 30+ tackles, 3 interceptions, 2 sacks, and 13 pass breakups. His performance helped lead his team on a state playoff run and garnered 1st Team All-District as well as 2nd Team All-Region selections on both sides of the ball.
Getting a commit from Corpening and keeping him in state is a huge win for VMI due to the nature of their program and school. VMI has a requirement that 67% of their scholarships must go to in-state players. With schools like JMU, Richmond, Virginia, and Virginia Tech also competing for the highest ranked recruit in Virginia, it often puts VMI at the bottom of the list in chances to land a commitment. Combine that with the nature of going to a military school and the mental fortitude you must have to continue all four years, grabbing a highly ranked recruit seems all the more challenging.
Corpening will be able to fit right into new Defensive Coordinator Nick Reveiz's scheme no problem. He has the athleticism to fit into a zone or play man coverage with his ability to play well in open space and making a play on the ball. Hopefully he can come in and contribute immediately as VMI's secondary is filled with a bunch of Juniors and Seniors that will be graduating soon.